Kick Scooter
A kick scooter is a fantastic choice for a child or adult looking for some recreational fun. A kick scooter is quite simple to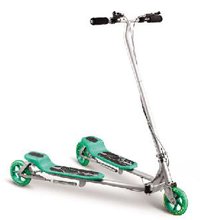 operate, and it is normally made of plastic or aluminum, so it is quite lightweight and convenient. A kick scooter will have a minimum of two wheels, and the rider uses it by pushing with their foot off of the ground. This is a common toy that you see many children using, but since scooters are becoming more popular than ever, a kick scooter is often used by adults for recreational purposes.
If you are sick of simply riding your bicycle around, why not try a kick scooter? This is something that you can use to get out into the fresh air and move around your neighborhood, and you can also use a kick scooter to travel a longer distance, like to a local coffee shop or restaurant in your area. A kick scooter is a quite convenient method of transportation, and it is very simple to operate. In fact, many people choose to use kick scooters instead of walking, if they are in a local park or even sightseeing.
To use a kick scooter, all you have to do is base forward on the kick scooter and grab the handle bars. Many people ride their kick scooter with their left foot on the board of the scooter, and the right foot will remain on the ground to push as you start the kick scooter. Depending upon whether you are right handed or left handed, you may want to use the opposite foot if it is more comfortable.
The key to using the kick scooter is all about balance, so make sure that you feel comfortable pushing off of the ground when you start to use the scooter. When you are riding on the kick scooter, it is best if one could is in front of the other, which will give you greater balance. Overall, a kick scooter is very simple to use,
which is why it is a beloved toy by many children. But it doesn't need to stop there! Since scooters are becoming more popular than ever, a kick scooter can also be used by an adult to move easily around local areas, as opposed to bicycling or walking.
Check out all of our top choices in kick scooters with a number of models and varieties available. When choosing the right kick scooter, it is important to find something that is appropriate to your weight limit so that it can support you and remain comfortable. Of course, that means that there are different kick scooters designed for children and adult, so make sure that you choose the kick scooter model that you are the most comfortable with. Even better, many of the more modern kick scooter choices have a twist deck, which will give you greater performance and durability in turning. There are so many new technologies when it comes to the best kick scooter!